Will Writing For The Kesgrave Community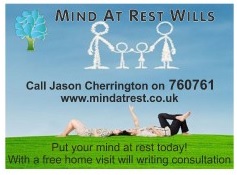 Based in Kesgrave, Ipswich, Mind At Rest Wills are proud to be part of the Kesgrave community and well placed to provide free initial consultations in the comfort of your own home.
You may have already seen our regular advert in the local Kesgrave community magazine the Kesgrave News   ➨ ➨ ➨
We believe in explaining Wills and the process of Will Writing in simple easy to understand terms, ensuring our clients take whatever amount of time necessary to understand Wills and Trusts ensuring you are able to make an informed decision on the best solution for you.
Our business is built on the principle of customer service and the majority of our clients come to us via personal recommendation from an existing client.
Sometimes people put off making a Will for a number of reasons. Not making a Will can cause issues for the people you leave behind and could even mean that your inheritance either goes to the wrong person or to the crown through the Law of Intestacy.
Making a Will is not as complicated as you think and with our help, we can ensure your estate goes to who you want it to go to.
Why not Book your Free Will Consultation today and we can arrange to discuss making a fully legal Will in the comfort of your own home.
Kesgrave Community Related Links
Kesgrave News
kesgrave Community Website
Kesgrave Community Sports Center
Kesgrave Good Neighbour Scheme
Kesgrave Town Council
Kesgrave Market